Body-Ready Methyl B-12: The human body is unable to store water-soluble B12 for a very long time that needs to be replenished regularly. Our high potency 5000 mcg dose of B12 as methylcobalamin offered in fast dissolve tablet is the easiest, most bioavailable method for you to get enough B12. Unlike common synthetic cyanocobalamin, methylcobalamin, the only type used in our product, is a natural, metabolically active coenzyme form that requires no conversion and can be used directly.
Energy, Health, Wellness*: Known for its reputed ability to involve in metabolic processes, the essential B12 assists in the release of energy from fats, carbs, and proteins, to support the smooth flow of energy throughout the day for optimal mental and physical performance.* More than an energy vitamin, B12 helps support a healthy nervous system, brain function & heart health.* Our vegan B12 is also a perfect source for those who avoid animal foods to keep their daily wellness routine.*
Quick-Dissolve, Great-Tasting, Sugar-Free: Served in a unique peach flavor, Methyl B-12 tablets disintegrate or dissolve rapidly under the tongue and are instantly absorbed into the blood stream, while resulting in a pleasant tasting on your palate. They contain naturally sourced colors plus no sugar and artificial sweeteners. Get ready to feel energized and be in a terrific mood again with our convenient, easy-to-take version of the versatile B12.* No water necessary.
All About Quality: Vitalitown Methyl B-12 is intended for both men and women free of artificial fillers, flavors, preservatives, and additives. All products are 100% Vegan, non-GMO, and contain no gluten, dairy, soy, egg, fish, shellfish, tree nuts, or peanuts. Your satisfaction is our priority. We stand behind our products, no questions asked, no ifs, no ands, no buts. If there is any problem, just let us know and we'll do our best to make it right.
The Way To Vitality: Here in Vitalitown, we believe nutrition is an important part of feeling healthy, active, and energetic which defines Vitality. We have been committed to providing high-quality supplements curated for your unique needs, bridging the nutritional gap and adding a dash of vitality to your life. All our products are made in the USA and tested by third party for purity & potency to ensure that each and every bottle of Vitalitown products represents the highest standards.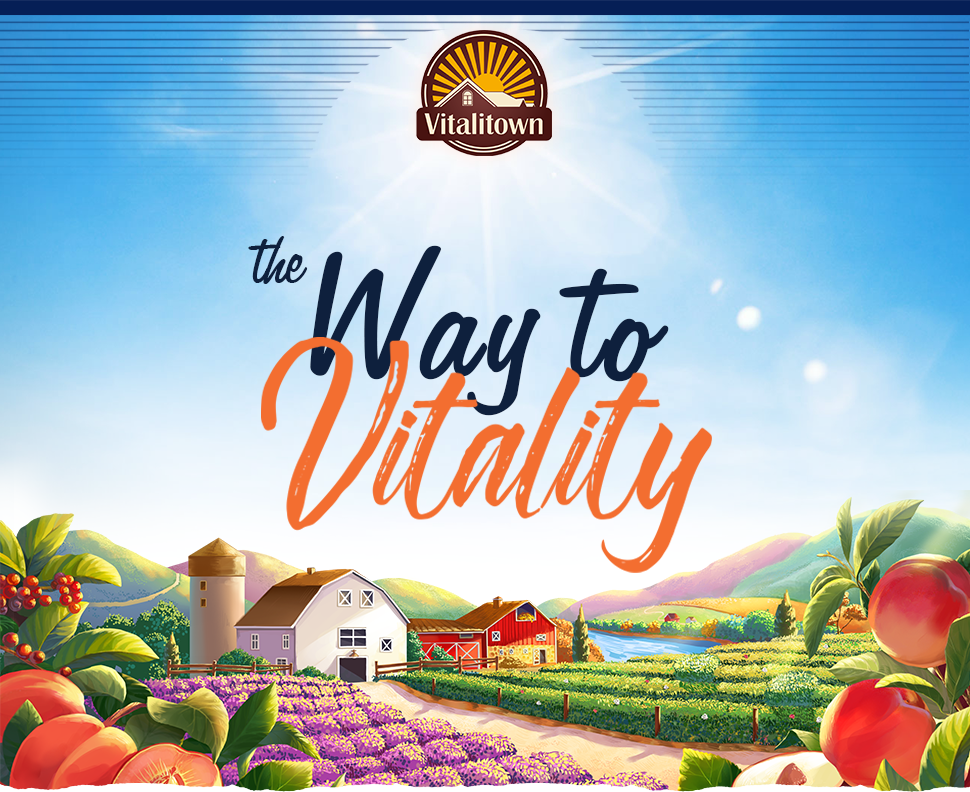 WHY DO WE NEED VITAMIN B12?
Vitamin B12 is a water-soluble vitamin, naturally present in animal products we eat. Since our body flushes out any unused amount of B12, we need to replenish B12 stores routinely by taking B12-fortified foods or B12 supplements, especially for those who follow a vegetarian or vegan diet.
B12 helps out many facets of your body, from keeping noraml brain function, maintaining heart health to aiding in metabolize energy, so you can keep performing and feeling your best.*
Methyl B-12 5000
Supercharge your day with energy vitamin B12 delivered in a delicious peach-flavored fast dissolve tablet.*
VITALITOWN METHYL B-12 comes in the most bioavailable coenzyme form of vitamin B12 (methylcobalamin), ready for our body to utilize. One peach-flavored fast dissolve tablet contains 5,000 mcg of B12 to deliver high-potency energy support.* Take anytime, anywhere and no water needed.
High Potency 5000 mcg Dose of B12 as Methylcobalamin

Fully Bioactive Coenzyme Form and Superior Absorption

Peach-Flavored Fast Dissolve Tablets

Quick Dissolve and Rapid Disintegration

Easy-to-Take and Great-Tasting

Sugar-Free plus No Artificial Sweeteners

Suitable for Vegetarians and Vegans




Made in the USA

Non-GMO

GMP-Compliant Facility

NO artificial fillers, colors, flavors

NO yeast, soy, wheat, gluten, dairy, corn, eggs, tree nuts, peanuts, fish, shellfish
 

★ Essential Daily Dose of B12

We pack a full 5000 mcg of B12 into one tablet to give you this essential nutrient support in your daily life.

★ Quick Dissolve and Rapid Disintegration

Upon introduction into the mouth, these tablets dissolve and disintegrate quickly and off to do good things in seconds, eliminating all of the additives and impurities that worry you.

★ Naturally Great-Tasting Peach Flavor

Bursting with delicious peach flavor, our tablets are pleasant, fun to take anytime, anwhere and no water needed.

★ Support Vegetarian and Vegan Diet

Our high quality Methyl B-12 suits the need of people who avoid dietary sources rich in vitamin B12.