Phospholipid-Bound Omega-3s with Astaxanthin: Our Krill Oil is cold pressed from pure Antarctic krill which is harvested in a sustainable way from the pristine waters, having far less potential for any toxins and industrial contamination. It is an ideal source of omega-3s (EPA & DHA) – essential fatty acids that our body does not produce on its own and must be consumed from diet or supplement. One serving provides 200 mg of EPA, 100 mg of DHA, 400 mg of phospholipds and 1500 mcg of astaxanthin.
High Bioavailability & No Fishy Aftertaste: Known as a fish oil alternative, krill oil boasts omega-3 fatty acids in their most natural phospholipid form, making them better absorbed by our body. Krill oil also contains powerful antioxidant astaxanthin and essential nutrient choline, these not found in fish oil. With two krill oil softgels daily, you reap more health benefits than your run-of-the-mill fish oil supplements.* No gross fishy aftertaste or burps that deters people from taking.
Brain, Heart, Eye & Joint Health Support*: Omega-3s are an integral part of cell membranes. Our body needs them to develop and function optimally in every stage of life. The consumption of EPA and DHA helps to support proper cognitive performance, maintain healthy blood lipid levels already within normal range, and promotes eye health.* The included astaxanthin in krill oil, the cause of red color, is responsible for reducing common types of oxidative stress and increasing joint mobility.*
All About Quality: Vitalitown Krill Oil is intended for both men and women free of artificial fillers, flavors, preservatives, and additives. All products are non-GMO, and contain no gluten, dairy, soy, egg, fish, tree nuts, or peanuts. Your satisfaction is our priority. We stand behind our products, no questions asked, no ifs, no ands, no buts. If there is any problem, just let us know and we'll do our best to make it right.
The Way To Vitality: Here in Vitalitown, we believe nutrition is an important part of feeling healthy, active, and energetic which defines Vitality. We have been committed to providing high-quality supplements curated for your unique needs, bridging the nutritional gap and adding a dash of vitality to your life. All our products are made in the USA and tested by third party for purity & potency to ensure that each and every bottle of Vitalitown products represents the highest standards.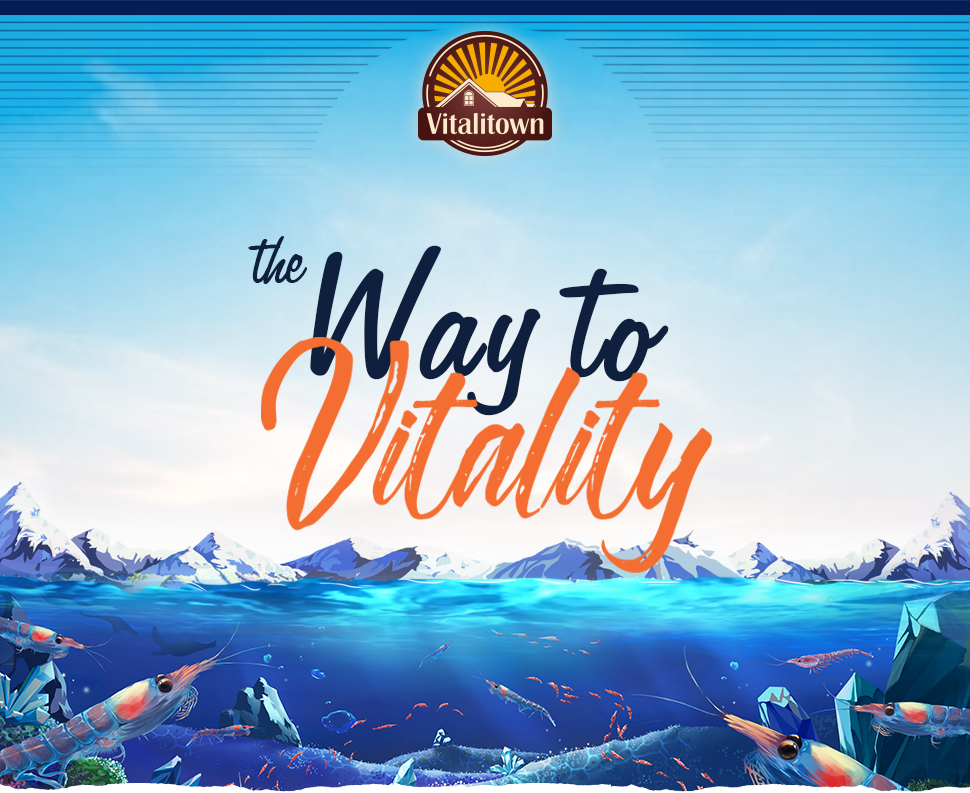 WHY DO WE NEED KRILL OIL?
Krill (Euphausia Superba) are tiny shrimp-like crustacean species native to pristine Antarctic Ocean. The small sea creatures pack a big punch with their rich sources of omega-3 fatty acids, EPA (eicosapentaenoic acid) and DHA (docosahexaenoic acid), two essential fatty acids that our body cannot manufacture them on its own and must get from food or dietary supplement.
EPA and DHA in krill oil, fundamental building blocks for cellular systems, are crucial for all our cells to work optimally. Krill oil also includes the added benefit of astaxanthin, one of nature's leading antioxidants, which helps fight the cell-damaging effects of free radicals.* These components stand behind your best whole-body support of brain, heart, eye and joint health.* 



Phospholipid-Bound Omega-3s
A great way to give yourself an excellent source of phospholipid-bound omega-3s for a renewed feel.*
Vitalitown Krill Oil is cold pressed from high-quality and pure Antarctic krill, free of environmental toxins and contaminants. It carries omega-3 fatty acids (EPA & DHA) in the form of phospholipids, which enable superior omega-3s absorption and easier digestion, plus super antioxidant astaxanthin to deliver a comprehensive supplementation for your optimal wellness.*
 

Cold Pressed from Pure Antarctic Krill

1000 MG of Krill Oil per Serving

Phospholipd-Bound Omega-3 EPA & DHA

Rich in Naturally Ocurring Antioxidant Astaxanthin

High Bioavailability and Easy Absorption

No Gross Fishy Aftertaste or Burps

Easy-to-Swallow Softgel

 

Made in the USA

Non-GMO

GMP-Compliant Facility

NO artificial fillers, colors, flavors

NO soy, wheat, gluten, dairy, corn, eggs, tree nuts, peanuts, fish
★ Pure and Sustainably Sourced Antarctic Krill

We strictly follow responsible fishing practices and only use 100% pure Antarctic krill of the pristine waters – far from environmental toxins and contaminants.

★ Essential Fatty Acids

Due to dietary restrictions or preferences, it is difficult for us to get enough omega-3 EPA & DHA from diet alone. Here Vitalitown Krill Oil offers you a ideal source of these essential good-for-you fatty acids.

★ High Bioavailability & Easy Digestion

A pupular alternative to fish oil, krill oil delivers phospholipd-bound omega-3s, which has superior absorption and is easier to digest.

★ No Gross Fishy Aftertaste or Burps

Our easy-to-swallow krill oil softgels provide you with additional benefits that not found in regular fish oil and you won't have gross fishy aftertaste or burps.