Bridge Her Nutrient Gap*: Expertly crafted for women who are proactive about their health, our One Daily Multi provides a comprehensive profile of essential vitamins and minerals, making up for nutrient shortfalls in the diet.* A daily dose tablet is packed with 27 nutrients, like vitamins A, B, C, D, E & K, choline, iron, zinc, magnesium, calcium and more. Get exactly what your body needs with our tailor-made formula to conquer your days with full energy, clear mind, and high productivity!*
Power up Her Daily Energy*: The 100% Daily Value or higher of B vitamins (thiamin, riboflavin, niacin, vitamin B6, folate, vitamin B12, biotin and pantothenic acid), in their most active forms for optimal absorption and utilization, help convert food into energy, fueling female vitality at the cellular level.* Also 9 mg of chelated iron for blood support during menstrual cycle, help women maintain iron levels and boost energy levels, maximizing every moment.* Unlock this powerful energy blend.*
Advance Her Wellness Journey*: Supplementing vitamins and minerals is a smart step towards general wellness.* The vitamin D3 & K2 plus calcium & magnesium merges the benefits of four to maintain bone health.* Powerful antioxidant support comes from vitamins A, C, E and zinc, acting as an anti-aging defense by promoting healthy skin for a glowing you.* The specially added choline and inositol help support nervous system, liver function and fat metabolism.*
All About Quality: Vitalitown Women's One Daily Multi is intended for women free of artificial fillers, flavors, preservatives, and additives. All products are non-GMO, and contain no gluten, dairy, soy, egg, fish, shellfish, tree nuts, or peanuts. Your satisfaction is our priority. We stand behind our products, no questions asked, no ifs, no ands, no buts. If there is any problem, just let us know and we'll do our best to make it right.
The Way To Vitality: Here in Vitalitown, we believe nutrition is an important part of feeling healthy, active, and energetic which defines Vitality. We have been committed to providing high-quality supplements curated for your unique needs, bridging the nutritional gap and adding a dash of vitality to your life. All our products are made in the USA and tested by third party for purity & potency to ensure that each and every bottle of Vitalitown products represents the highest standards.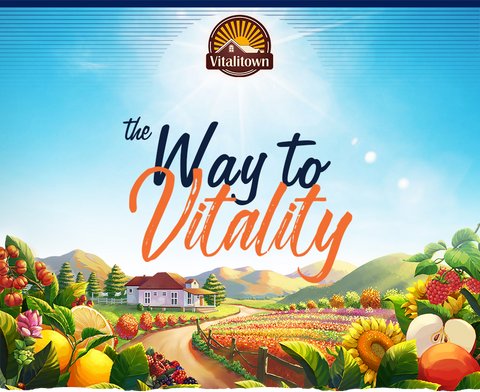 WHY DO WOMEN NEED MULTIVITAMIN?
Well-rounded nutrition, regular exercise, good relaxation and sleep are the pillars of overall health.* But, it is not always easy to make it in today's fast-paced life. Nutrient deficiencies are a common occurrence that can happen to many of us.
Especially for women, the world's great multitaskers, ensuring a recommended daily allowance of key vitamins, minerals and other nutrients from supplement is crucial for them to get energy boost, stress relief and a stronger health defense.*
Kick-start a new daily routine for a energized and vibrant you.*
One Daily Tablet Targeted for Women's Needs
Think, feel, perform at the highest level with this perfectly combined daily multi.*
VITALITOWN WOMEN'S ONE DAILY MULTI provides a broad spectrum of essential vitamins and minerals in a single tablet, giving women all-day nutrient coverage, to nourish their whole-body health.*
 

all-day nutrient coverage*
vitamins A, C, D3, E, K, 8 B-vitamins and more
chelated iron & zinc for easy absorption
choline & inositol for fat metabolism*
MTHFR-friendly l-5-methylfolate
250% Daily Value of vitamin B12
convenient one daily tablet
flush free

 

Made in the USA
Non-GMO & Vegetarian
GMP-Compliant Facility
NO artificial fillers, colors, flavors
NO yeast, soy, wheat, gluten, dairy, corn, eggs, tree nuts, peanuts, fish, shellfish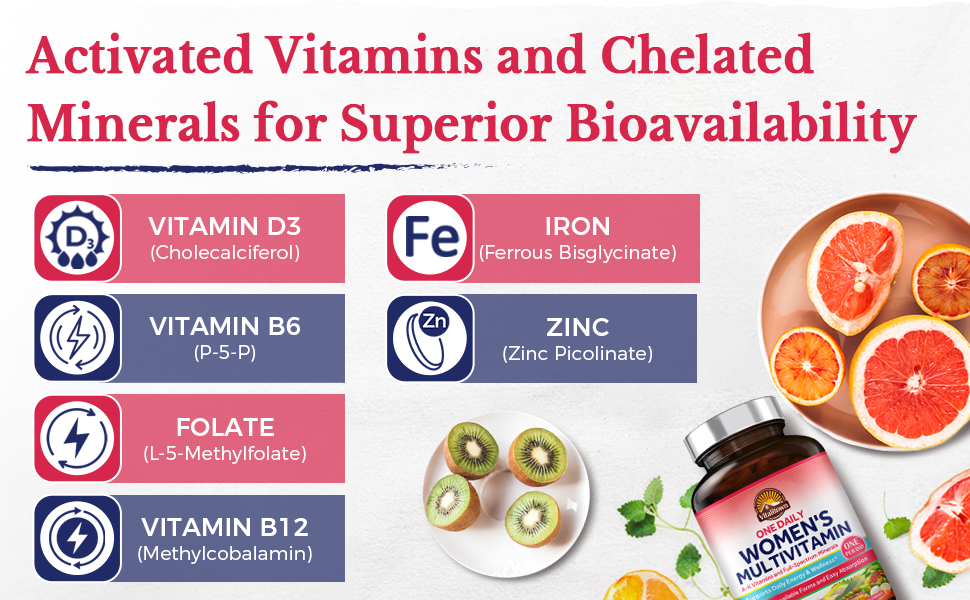 ★ Full B-vitamin Complex

B Vitamins help support the metabolism of fats, carbs, & proteins, maintain daily cellular energy, giving you adundant energy for an abundant life.*

★ Vitamin D3 & K2 + Calcium & Magnesium

Calcium is vital for the formation of strong bones. With Vitamin D3, magnesium and K2, your body can absorb calcium more efficiently and utilize it correctly for bone health.*

★ Anti-Aging Blend*

Vitamin A, C, E and zinc are powerful antioxidants that help protect against free radical damage.*

★ Chelated Iron

It also contains 9 mg of iron in the form of ferrous bisglycinate, gentle on the stomach, to help women replenish iron lost during menstrual cycle.*