Well-Rounded Collagen Formula: Our Multi Collagen + is your ultimate collagen supplement that combines beauty-related bioactives, vitamins and antioxidants into one collagen solution for your shielding from the outside, renewing from the inside.* Each serving is chock full of highly absorbable Collagen Hydrolysate (type I, II, III), 100% Vitamin C, Biotin, Hyaluronic Acid, Turmeric Extract and Black Pepper. The convenient capsule form fits easily in purses or bags to take on the go.
Replenish, Repair, Regenerate & Rejuvenation*: Want to look and feel more youthful, vibrant? Add our Multi Collagen + to your diet. The collagen complex (from grass-fed cattle, wild-caught fish, free-range chicken) helps you replenish lost collagen due to age, repair damaged collagen, regenerate new tissues, gaining everyday rejuvenation for skin, hair, nails & joints.* The daily dose of vitamin C stimulates collagen synthesis, also shields skin from sun, stress, pollution and free radicals.*
Fortified Skin, Hair, Nail & Joint Health*: Hyaluronic acid helps boost skin moisture content to reduce wrinkles, fine lines for firmer, smoother, younger-looking skin.* Biotin is vital for strengthening hair & nails, and accelerating their growth.* Turmeric and black pepper combo works well to support healthy inflammation response for more flexible joints.* Including all these powerful ingredients in Multi Collagen + takes your full body rejuvenation from the inside out to the next level.*
All About Quality: Vitalitown Multi Collagen + is intended for both men and women free of artificial fillers, flavors, preservatives, and additives. All products are non-GMO, and contain no gluten, dairy, soy, egg, shellfish, tree nuts, or peanuts. Your satisfaction is our priority. We stand behind our products, no questions asked, no ifs, no ands, no buts. If there is any problem, just let us know and we'll do our best to make it right.
The Way To Vitality: Here in Vitalitown, we believe nutrition is an important part of feeling healthy, active, and energetic which defines Vitality. We have been committed to providing high-quality supplements curated for your unique needs, bridging the nutritional gap and adding a dash of vitality to your life. All our products are made in the USA and tested by third party for purity & potency to ensure that each and every bottle of Vitalitown products represents the highest standards.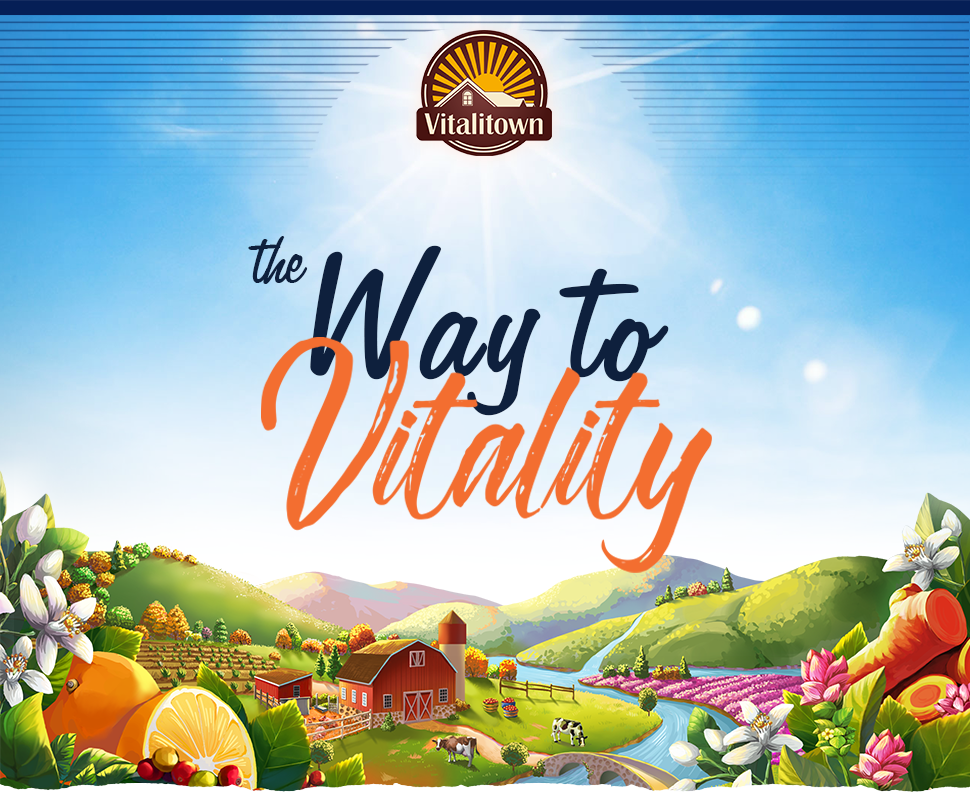 WHY DO WE NEED COLLAGEN?
Collagen is the most abundant structural protein found in the body's various connective tissues that give our body form and support our organs, literally the "glue" that binds us together.
Outside of the well popularized younger-looking skin, healthier hair and stronger nails, collagen also supports bounce-back from a rigorous workout.*
While bountiful in youth, collagen production naturally decreases as we enter our twenties, leading to thinner, weaker, less resilient tissues over time.
Daily collagen supplementation is a must-have to help with the effects of age on our body and renew our natural youth and beauty.*
Convenient Easy-to-Swallow Powerhouse Capsules
Enjoy benefits to the health of your skin, hair, nails, and joints on-the-go.*
VITALITOWN MULTI COLLAGEN + delivers 3 types of hydrolyzed collagen peptides with vitamin C, biotin, hyaluronic acid, turmeric extract and black pepper in one single formula for your complete head-to-toe rejuvenation, from glowing & radiant skin, thick & full hair, strong & longer lasting nails to comfortable & flexible joints.*
well-rounded collagen formula

collagen peptides type I, II, III (grass-fed cattle, wild-caught fish, free-range chicken)

fully hydrolyzed for max absorption

fortified with vitamin C, biotin, hyaluronic acid, turmeric, black pepper

easy-to-swallow capsules

convenient & travel friendly

no hormones or antibiotics

Made in the USA

Non-GMO

GMP-Compliant Facility

NO artificial fillers, colors, flavors

NO yeast, soy, wheat, gluten, dairy, corn, eggs, tree nuts, peanuts, shellfish
★ 100% Daily Value Skin Vitamin C*

A daily dose of vitamin C is all you need to help support collagen synthesis and protect cells from oxidative stress & photoaging for your glowing skin from within.*

★ High Potency 5000 mcg Biotin

Get high potency 5000 mcg of biotin (vitamin H or vitamin B7) from 3 capsules to fortify radiant hair, skin & nails.*

★ Rejuvenation Hyaluronic Acid*

Hyaluronic acid, one of the most recognizable beauty ingredients, helps keep skin hydrated and plump to revitalize your beauty.* It also serves as a natural joint lubricant and shock absorber.*

★ Golden Turmeric Extract

The added turmeric extract (standardized to 95% curcuminoids) helps further support joints and mobility for maintaining an active lifestyle.*