Four Chelated Forms Of Magnesium: Vitalitown Magnesium Complex comes in four excellent forms of magnesium, magnesium glycinate, magnesium malate, magnesium taurate & magnesium citrate, all of which are chelated to optimize absorption and bioavailability.*
Energy Production & Protein Synthesis*: Magnesium is involved in more than 300 different bodily functions. As a vital mineral for every cell in our bodies, it helps convert food into cellular energy, and regulate blood pressure and protein synthesis.*
Whole Body Wellness*: Proper Function of Bone, Muscle, Immune, Brain, Heart, Energy & Sleep* - Our synergistic blend of four soluble forms of magnesium work in concert to provide nutritive support for relaxation, bone density, muscle recovery, fitness endurance, natural constipation relief, calm & restful sleep and proper function of brain, heart and immune system.*
Purity & Quality: Vitalitown Magnesium Complex is intended for both men and women free of artificial fillers, flavors, preservatives, and additives. All products are 100% Vegan, non-GMO, and contain no gluten, dairy, soy, egg, fish, shellfish, tree nuts, or peanuts.
Made in the USA: Vitalitown products are manufactured and packaged in the USA in a GMP certified facility. They are tested by the third party for purity and potency to ensure that each and every bottle of Vitalitown products represents the highest standards.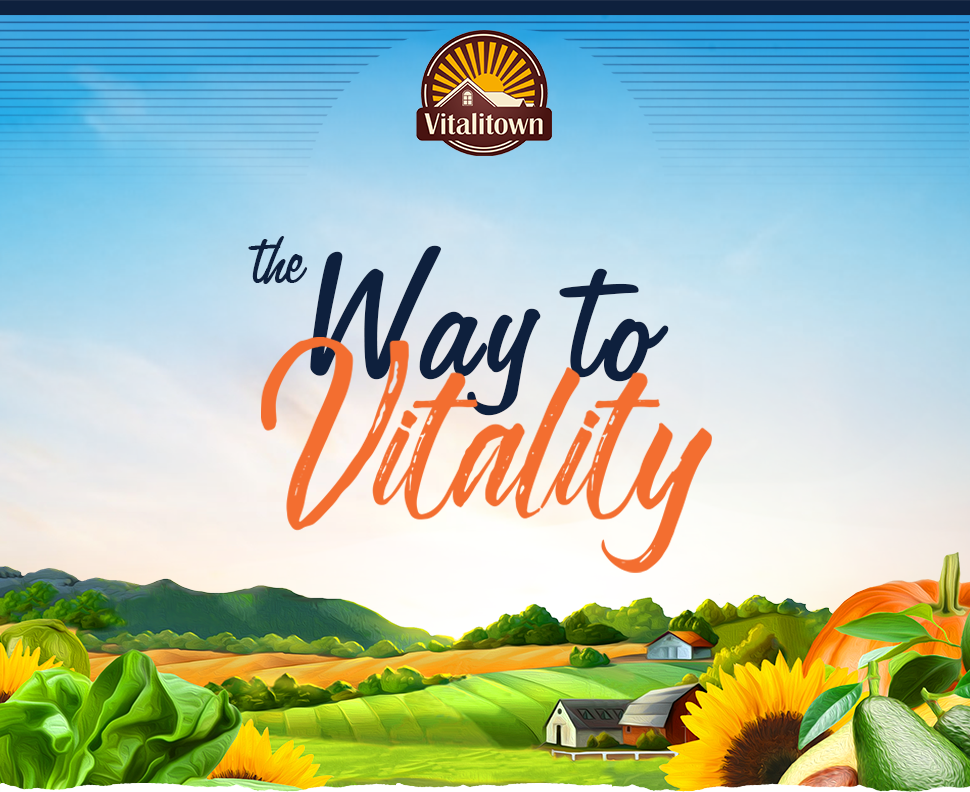 What Does Magnesium Do?
Magnesium is an essential dietary mineral involved in hundreds of different processes in our body, such as energy generation.* It has a central role in ATP generation and contributes to muscle contraction, relaxation, normal nerve function, and release of neurotransmitters.*
Magnesium also plays a vital role in DNA replication and repair, RNA transcription, amino acid synthesis, protein formation, and glucose metabolism.*
Why Do We Need Magnesium?
Chronic stress, soil degradation, and poor food quality make it tough to get your fill of magnesium. In fact, 48% of Americans don't get enough.
Vitalitown Vegan, Natural Magnesium Complex
Magnesium: Meet the Most Powerful Relaxation Mineral Available
Vitalitown Magnesium Complex is professionally formulated for maximum potency because we are devoted to bringing you real results.
Four forms of magnesium are included for a synergistic effect, making the combination more efficient than each alone.
easy on the stomach & better-tolerated
without causing laxative effects.
includes only readily absorbable forms
all 4 types of magnesium - highly bioavailable to deliver optimal results
chelated forms for better absorption

4-In-1 Support*
Made in the USA
Non-GMO & Vegan
GMP-Compliant Facility
NO artificial fillers, colors, flavors
NO soy, wheat, gluten, dairy, corn, eggs, tree nuts, peanuts, fish, shellfish
Not All Magnesium Complex Are Created Equal
Magnesium is involved in more than 300 different bodily functions. As a vital mineral for every cell in our bodies, it helps generate energy and metabolize proteins, maintain normal nerve and muscle function, keep heart rhythm steady, regulate blood pressure, and strengthen the immune system.*
Vitalitown has you covered with the comprehensive blend of 4 chelated forms of magnesium, magnesium glycinate, magnesium malate, magnesium taurate & magnesium citrate. They work together to replenish your magnesium levels and support overall wellness.*
Our potent magnesium complex is designed to meet your daily magnesium requirement with just one vegetarian capsule. It helps support overall health from brain, bone, heart to muscle, energy, and sleep.* It's designed to be fast absorbed without upsetting the stomach or causing laxative effects.*
Magnesium Glycinate
formed from elemental magnesium and the amino acid glycine
one of the most bioavailable and absorbable forms of magnesium
a gentle form that is very easy on the stomach and entire digestive tract
the best choice for those seeking to improve mental calm, relaxation, and good quality sleep*
Magnesium Malate
includes malic acid, a natural fruit acid present in most cells in the human body
the ionic bonds of magnesium and malic acid are easily broken, meaning that magnesium malate is highly soluble
a fantastic choice for people suffering from fatigue since it plays a critical role in ATP synthesis and energy production*
Magnesium Citrate
a form of magnesium bound to citric acid
one of the most bioavailable forms of magnesium
an excellent choice for individuals with occasional constipation*
Magnesium Taurate
combines magnesium and the amino acid taurine
easily absorbed since magnesium and taurine stabilize cell membranes together
contains no laxative properties, especially beneficial for those seeking the heart health-promoting benefits*
★ Calmness and Deeper Sleep*

Magnesium helps maintain normal levels of GABA, an essential amino acid that can help calm both your body and mind to allow for deeper, quality sleep.*
Put an end to your racing thoughts and get a sound sleep from now on!*

★ Strong Bones and Muscles*

About 75% of magnesium that we carry in our body is found in the bones and muscles. Magnesium helps balance calcium levels and support proper muscle contraction.*
Get away from spasms or cramps!*

★ Brain Function*

Magnesium resides in the NMDA receptors, which play a critical role in learning and memory retention, to protect them from overstimulation, which may cause depression, restless sleep, and migraines.
Activate your brainpower!*

★ Keep Your Heartbeats Steady*

Magnesium helps relax and dilate your blood vessels.*
When lacking magnesium, your blood vessels may constrict, causing high blood pressure.
Keep yourselves strong, body and soul.*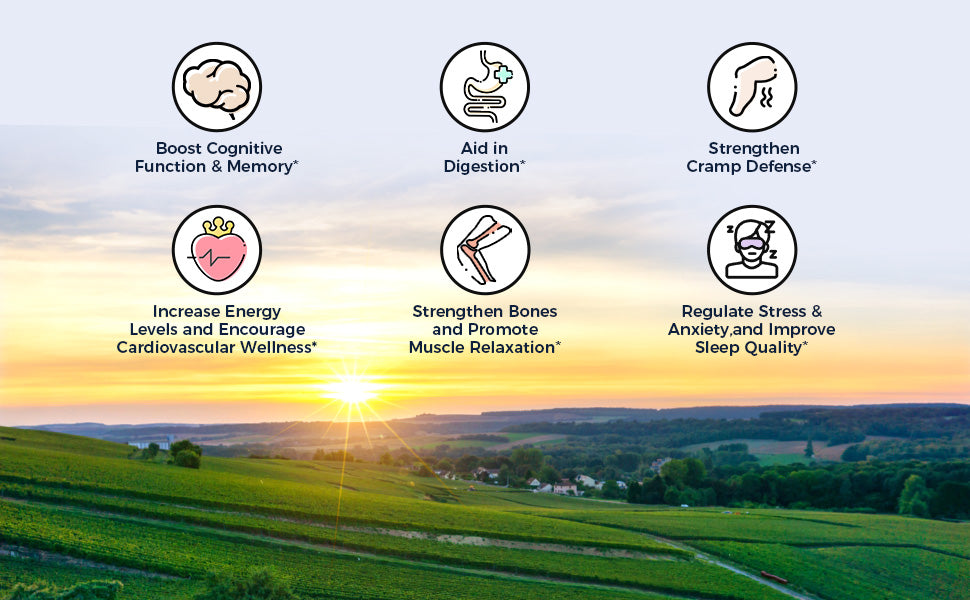 Tips to Maximize the Health Benefits of Magnesium
Take at any time that works for you. The benefits of magnesium are closely related to long-term use.
Take with food to reduce the risk of any stomach upset.